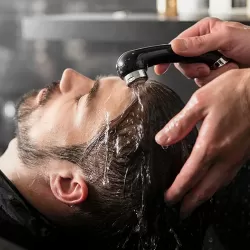 For many men, getting a haircut, or any type of self care, is not at the top of your priority list. But once you visit us at ManeTained Salon for Men, we think your priorities will change. Sometimes, a guy just needs to go into a cool, air conditioned salon, sit in a comfy chair, have a beer and get a good haircut.
Call it pampering, call it grooming, call it taking care of yourself - call it whatever you want. All we know is that we want you to take a load off, have a cold one and leave our salon looking as good as you feel. At ManeTained Salon for Men, we believe men's grooming doesn't have to be complicated. It can be as simple as popping in for a haircut on your lunch break, or letting us trim your beard before you head out for a weekend on the lake.
Look Sharp and Feel Fresh
But just because we have quick, uncomplicated service doesn't mean you won't be walking out of our doors with the most quality cut you will find in Hood County, Texas. ManeTained Salon for Men offers detailed and fresh haircuts, precise beard trims, quick neck and ear trims, rinses, hot towel service and father and son specials.
But, the real treat is doing it all with a beverage of your choice included in the price- even a frosty cold beer. (Must be 21 or older to consume alcoholic beverages)
Our stylists have the skills to give you the look you want, and our salon has the atmosphere that will give you the relaxation you deserve. So come see us at ManeTained Salon for Men- where you can unwind with a cold drink and walk out of our doors looking your best and feeling like you can conquer the world.