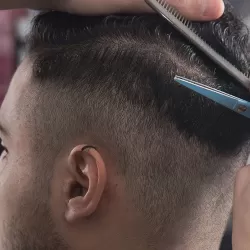 At ManeTained Salon For Men, we care about your hair. When you walk through our doors, expect to be greeted with a smile as we walk you back to our comfortable chairs. Once you sit down, choose a beer, coffee, tea, or a variety of other sodas, sit back and relax. We'll take it from here. Tell us what type of haircut you're looking for, and our talented and skilled stylists will make it happen for you. 
Salon Services
Basic Haircut
Don't let the word basic fool you. With our basic cut you get precision and style from our skilled stylists at ManeTained Salon For Men. A quick, no - frills cut, this service will have you out the door and back to your day in no time.
Haircut with Rinse
Forget leaving your haircut with an itchy neck - we've got you covered. Not only will you get a clean, precise cut, but we will rinse you off before you head out, ensuring that you are ready to conquer the rest of your day with zero discomfort.
Neck and Ear Trim
Need a quick tune - up? We can help you with that. If you like your existing haircut but just need to keep the cut looking trim and sharp, come in and we will cut just enough to keep your mane looking fresh.
Father and Son Special
Bring along your little man for a special bonding experience. Get matching haircuts or you can each choose your own. Either way you'll both leave looking and feeling dapper.